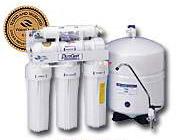 RO10D1
Complete Reverse Osmosis System
Retail Price : $0.00
Our Low Price : $0.00

Sorry, This product is no longer available. Please call for alternatives
---
This is an APS ULTRA brand reverse osmosis system. It is used to purify water for drinking water, aquarium, incubator and humidifyer applications.

Reverse osmosis membranes can remove up to 90%-99.9% of most contaminents. Reverse osmosis must be protected from over concnentration of the waste stream, Chlorine which will eat away at the pores. and particlutates that can plug the membrane up.

This complete System comes with the following :

1 ea. Saddle valve for city water connections
1 ea. 3 housing system with bracket
1 ea. CF10D1 Carbon Filters - Removes chlorine and protects TFC membranes
1 ea. PF10D1 5 micron particulate filter.
1 ea. TLC-50 - 50 GPD T.F.C. Reverse Osmosis Membrane
1 ea. 2 gallon capacity storage/delivery bladder
1 ea. CF10D1 Post storage carbon filter improves taste after storage
1 ea. Main flow control valve
1 ea. Drain Saddle connects to existing drain pipe for waste flow
1 ea. Waste flow control valve
1 ea. Chrome Plated Faucet.
and misc tubing and fittings required for installation

Storage Tanks
Water Softeners
Iron Filters
About Reverse Osmosis Systems
What are RO stsges and do they matter?

In order to be protected, we highly recommend a Leak Protection Devices
---
Related Categories
See All :